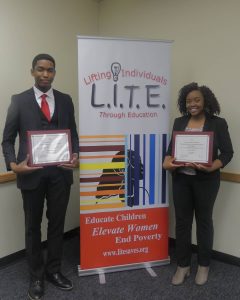 We are so incredibly proud of our L.I.T.E., sholarship winners, Robert Williams and Ayomide Oyefoso, for 2018!  Listen to what the LITE scholarship means to them!
 Text2Give and offer more opportunities to students.
TEXT: Give (and your amount) to  469.609.1220
Robert is currently attending Collin County College and Ayomide is attending University of North Texas.  They are both aspiring Fine Arts majors!